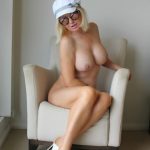 Kendra is in vacation mood!
Well, she remembered hat, sunnies and high heels, but seems like she's forgotten the bathing suit!
Still she seems to be having a great time anyway and invites you to join her in the Gallery for some cheeky new photos ..
Check out Kendra's new photos and remember, Kendra would LOVE to have fun with you naughty boys too!