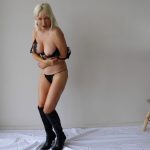 Tease & Deny is a very erotic practice which gets the juices flowing.  Kendra is often asked for some tease and deny in a service and for those who've never experienced it, you should try it.
Not getting something immediately is a treat for increasing anticipation and readiness to produce an explosive finale.
Certainly to be recommended!