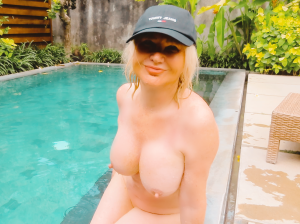 All that wonderful sun, food, scenery and adventures!  Bali is the best … Beautiful villa with private pool. 🤩🌞👙🍹 Life is good.
But today I'm back in OZ.  I hope Melbourne turns on some sun and warm weather. 🌞 🤔😏
Maybe you feel like a break yourself … Come have a mini holiday with me.  You can forget work for a half hour or an hour or two and enjoy being naughty.  That's right – do something for yourself!
See you in Southbank from 10 November.