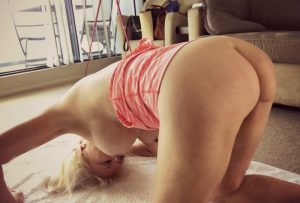 Most guys find gym clothes fascinating.  They're figure hugging and often low cut at the breasts and high cut at the ass.  What's not to love!
Guys will watch fixedly as girls work out, with mouths open (well .. almost).
Why not re-live that fantasy with Kendra.  I've got some sexy gym clothes and I'm happy to do some gym moves while you watch …  before you overpower me and show me your ballistic missile!
Some clients like me to meet them at the supermarket in gym clothes, maybe at the fruit section, where I'm buying strawberries to go with the chocolate sauce I already have in my trolley … Then I fall victim to their charm and we adjourn to my apartment for lots of fun …
Maybe you'll even excise that annoying fantasy from your psyche or MAYBE you'll just enjoy it more.
Either way, you're a winner!